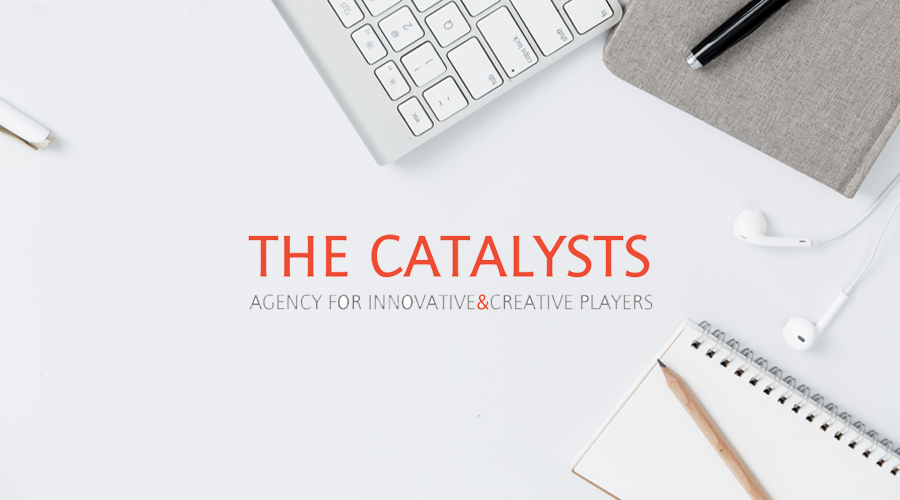 We would love to welcome you to our ecosystem – that is, 3 main areas of work:
we love business: THE MARKETING CATALYSTS is a strategic consultancy for companies working at the intersection of Digital Technologies and Film, Immersive Media, Design, Music and Sound, with a focus on the specific challenges of entering new markets. Beyond offering strategic coach-sulting sessions to set the marketing of our clients in motion, we curate and conduct Trade Missions to foster international partnerships in tech and digital media sectors, from AI to XR.
we love people: THE CREATIVES' CATALYSTS is a speakers' agency managing and supporting experts and artists working in cutting-edge science and technology, from AI, blockchain to IoT and neuroscience, as well as film, sound and visual art. We help our speakers connect with professional audiences around the world, sharing their unique insights into not only future trends, but the complexities of our present moment.
we love to think! THE CATALYSTS is a multi-disciplinary research team investigating new developments across emerging technology, scientific research, politics and culture to turn conferences into sites of knowledge exchange and co-creation, designing programs informed both by critical perspectives and a narrative approach for hybrid, virtual or on-site events, conferences and festivals.
Your tasks – it won't be you fitting into them, but them fitting around you:
Market research for selected clients meetings
Research into relevant conferences and industry events
Support in speakers management activities
Preparation of our public talks, moderation and publications
Structuring, maintenance and expansion of our influencers and contacts database
Copywriting and further development of our online PR and social media tools (Website, Newsletter, Blog, Twitter, network profiles, etc.)
Support and supervision of project management for all clients, including administrative tasks
Does this sound like fields you would like to work in? We are curious to get to know you!
Your profile:
You have successfully completed a Degree in Communications/Business/Cultural Management/Sociology /Journalism/Literature & Philosophy ,or are about to graduate
First experiences in marketing and communication/press and public relations in companies in the creative industries, advertising/PR/events agency, film production, music, arts institution or startup
Sound knowledge / strong interest in the innovative and creative media landscape (especially in Berlin/Germany, as well as in the EU/France and Switzerland, and USA) at the intersection of high tech and creative sector
High affinity for film, music, design, arts and culture as well as digital media
Fluent use of social media, including editorial skill
Outstanding communication skills in English AND German, especially written (native bi-lingual speakers welcome). French is a definite plus, but not a must 😉
Excel, Keynote/PowerPoint, Squarespace, WordPress, Mailchimp and further collaborative tools aren't new to you!
You are communicative, straight forward, committed and on top of things in your organization
Diversity is in our DNA: we will warmly welcome applications of women, people of color, LGBTIQA*.
We are a small international team (Australian/French/German/Polish/Swiss) working in a hidden office in a paradisiac courtyard at the very heart of Berlin. We are used to work partly at the office, partly remote as we (usually) travel a lot. We love our job, and we love life. Growth is not really on the plan: small is beautiful, and we prefer the team to stay small, dedicated, sticking together and sharing creative ideas & insights in direct ways.
And even more about us here: www.catalysts.agency
If this sounds good to you, we are keen to get to know you ASAP this summer! Please send your application in German, English or French to catalysts.agency@creatives-catalysts.com before we get to know you in person.
ThX!
AC, Anna & Joanna