At the 31st of May the games:netRoundtable was able to welcome 60 guests for a discussion around the topic of: "Customer and Employee involvement: digital gaming in companies" hosted by the Volkswagen digital:lab.
Digital Games can be way more then just entertainment: on mobile platforms like smartphones or tablets digital gaming worlds can be used efficiently. The array of different uses is wide: from the serious medical gaming app for the treatment of diseases to the playful education systems for employees, the possibilities are nearly limitless. Trough the use of of new technological advancements like social game mechanisms and the evolving virtual reality the possibilities are going to be extremely diverse. A good overview of the technological developments and a detailed evaluation of cost and efficiency have never been more important when trying to apply a successful use if serious games and gamification.
After being greeted by the games:net partners Medienboard and the GAME network the host from the Volkswagen Digital:Lab Stefan Gotthardt gave an introduction to the work of his institute.
Different case studies were discussed by developers and clients during the course of the panel, the discussion was led by Uke Bosse Professor for Media-Design at the University of applied sciences Berlin.
1. Case Study "Roche Performers": Ralph Stock, (Serious Games Solutions) and Wiebke Bernhart (Roche Pharma AG)
2. Case Study "T.R.A.C.Y.": Prof. Thomas Bremer (University for Technology and Economy) und Kai Sostmann (Charité hospital Berlin)
3. Case Study: "lern German: mobiles language learning game for the Goethe institute"    / Case Study: "scenario based Training: psycho sociological well being at work" Jörg Hofstätter (OVOS)
4. Case Study: "#berlindustry rocks." Prof. Thomas Langhanki and Nico Nowarra (Experimental Game)
A big thank you goes out to our patron the Medienboard Berlin Brandenburg, our partner the GAME federal-association, our host VW Digital:Lab, the games:net initative partners Amazon Appstore, Berlib Partner, Gameduell, Paymentwall, ZAB and CLUSTER IKT, as well as to our speakers.
Organized by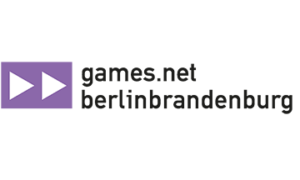 Host