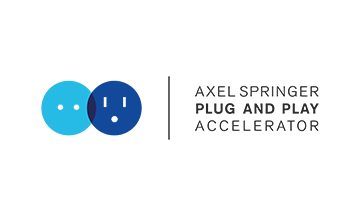 We count ourselves lucky. We are a joint venture between the Plug and Play Tech Center and Axel Springer SE. They support us in every way possible. It also means we are not bound to one region, one topic, one opinion. We offer a global network and international opportunities.
Axel Springer SE,  is not only market leader in the German print business, but is also active in more than 40 countries through subsidiaries, joint ventures and licenses. As a result of consistent internationalization and digitization it is one of the leading digital publishers in Europe, with more than 50% of its revenues coming from digital media activities. That is something to be proud of. And we are.
Plug and Play Tech Center is an international startup accelerator that has been making it big since 1990. Located in Sunnyvale, California, Plug and Play has made a business in people and connections. It has housed companies like Google, Paypal, Logitech and DropBox and partnered with prestigious universities and big corporate companies.