No other than the well-known law expert Felix Hilgert gave a set of recommendations to master your next negotiations and contract with your publisher.
Due to his firsthand experience as a lawyer within the industry, Felix offered interesting practical examples. He addressed the typical problems and traps, which might occur during a negotiation process with your publisher to equip you with handy tips for your next negotiation.
After Maria Wagner (games:net berlinbrandenburg) welcomed the speakers and guests, Felix Hilgert started off his presentation and introduced his colleagues Hans-Christian Woger (Hank) and Benjamin Schaum, who complemented his speech with their expertise. You can download the presentation Felix delivered here.
Felix has been advising games companies for almost ten years. For the games:net LAW he picked up key points that always play a role in publisher contracts. One big chunk of the contract is the development, localization and porting of your game. The first big question in your contract is therefore, what does the publisher want? How are you going to finish your development and what do you have to do for that?
One basic distinction is whether you are working in milestones or an agile kind of way. The constant conflict here is that your publisher certainly will have concrete marketing plans and deadlines and will want to define milestones for your development. It is possible though to combine both methods. As a game developer you have to think clearly about what milestones you are able to commit to and how detailed the definitions can be as well as make sure everything is fixed in the contract.
Next point is the localization. You need a clause that says who will be localizing and who will bear the costs –  in other words: who owns what rights?
Also make sure of defining deliverables and approvals/acceptance. A possible trap here could be that the publisher will have a list of requirements and an own idea of how the quality of the game should be  – but would not want to put it in writing. That is not reasonable though. It means that if you get in a fight with your publisher for whatever reason, the publisher might just not approve your development anymore. Make sure the reasons for such approval can be refused are stated in the contract. Furthermore, be aware of cooperation obligations. Whenever you develop something for someone, make sure that the contract at least says that your cooperation partner has an obligation to send you all information you need. If your cooperation is late with sending information or files you need that means your deadline moves automatically.
Then there is the question of budget. Make sure that you have a provision in your contract that tells you how much they are going to pay you for the development phase. It is probably best to tie that either to an upfront payment or to milestones. Also, often in contracts a publisher wants to say "we can pull the plug". There needs to be a reasonable chunk of money you can get in order to pay salaries until termination.
Next big point is the question of intellectual property. Think about what rights does a publisher get in terms of for example merchandise. Should the publisher get a perpetual license (publisher owns everything) or a term license? Also make sure that credits are locked down in the publisher agreement.
Another important part of a contract is the remuneration. First thing you have to think about is whether it is a revenue share or a profit share. One clause of the revenue share is what actually will get shared. Have a close look at the deductions, for example the marketing costs. Think about what publishers are allowed to spend here. Also, you need to know how much money your publisher makes. It makes sense to have a reporting clause in your contract that says what has to be in the money report and when it is due.
Also, think about what happens when things go wrong. Define liability.  Modify your warranty obligations.
After all, also think about publisher obligations. What does the publisher have to do for you? Make sure that there is a at least a minimum commitment on the publisher's side.
After the interesting presentation the guests got the opportunity to address their personal questions and cases during a Q&A session.
For instance, some of the game developers were concerned about how to estimate the value and cost of a game and if there is a good way for the estimation.
Felix Hilgert said that there is no formula but different ways to look at this question. For example, developers could compare their game with similar games, look on how much money the publishers make with it or how much a developer does invest in his game.
We would like to thank our guests for coming, for the lively discussion and especially Felix Hilgert for his informative and instructive presentation. Also, a big thanks to Osborne Clarke for having us as well as to all of the games:net partners for their support of our events!
A review bx Xenia Günther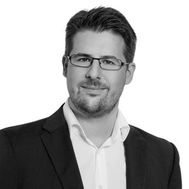 Felix Hilgert, provides comprehensive legal advice regarding the content of entertainment products for the German market and regularly represents video and computer game publishers in proceedings before German youth protection authorities. Felix joined Osborne Clarke in 2011. He studied in Cologne and Paris and completed various legal traineeship postings, among others with a federal youth protection board in Bonn and with Canadian law firm Gowlings in Vancouver.
In addition to these postings, he worked for one year in 2012 at a Toronto law firm that specializes in international legal transactions. Felix is author of a number of specialist publications on IT, copyright and youth protection law and a regular contributor to the specialized blog www.onlinegameslaw.com.Felix advises on IT and e-commerce law, on software contracts and on all aspects of interactive entertainment.
We are looking forward to welcoming you to a tasty and knowledgeable breakfast at the beautiful venue of Osborne Clarke.